MARVEL SNAP reboots the entire collectible card game universe.
n
The game is stacked with incredible visuals, a multiverse of gameplay variations, and a "snap" mechanic — a double-or-nothing bet — that's as simple as it is revolutionary. It's got an encyclopedic collection of iconic and deep-cut Marvel characters, but players don't need a background in comic-book lore or collectible card games in order to participate. And with brilliantly intuitive touch controls and speedy gameplay, it's perfect for mobile devices.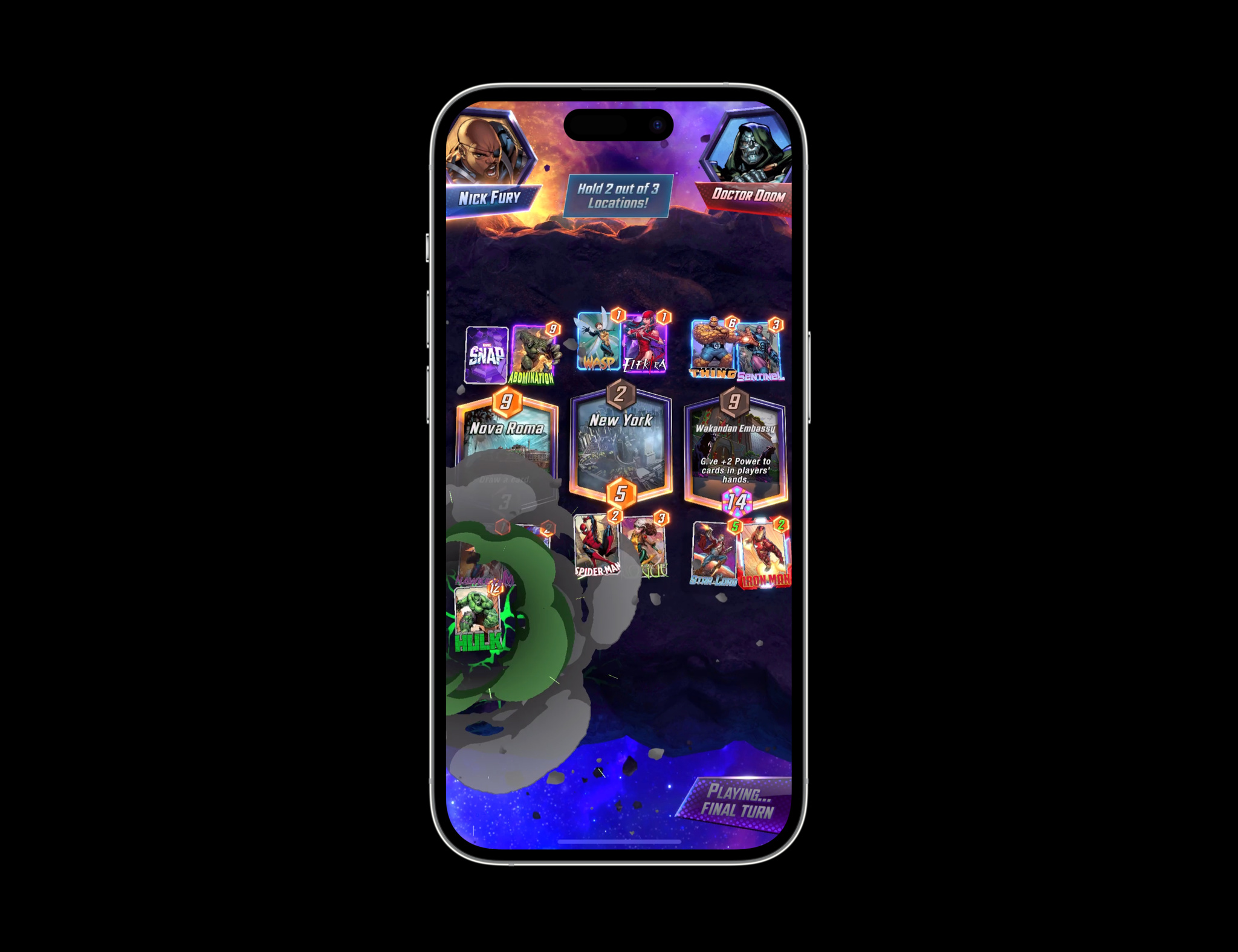 MARVEL SNAP is the brainchild of Ben Brode and Hamilton Chu, the masterminds behind Hearthstone, which itself redefined the collectible card genre upon its 2014 release. In 2018, the duo launched their own studio, Second Dinner, with big aspirations and an even bigger problem: "We didn't have any ideas," laughs Brode, the studio's chief development officer. "It's a little terrifying to sit down at your new job and think, 'OK, we have to come up with a game, and we have nothing.'"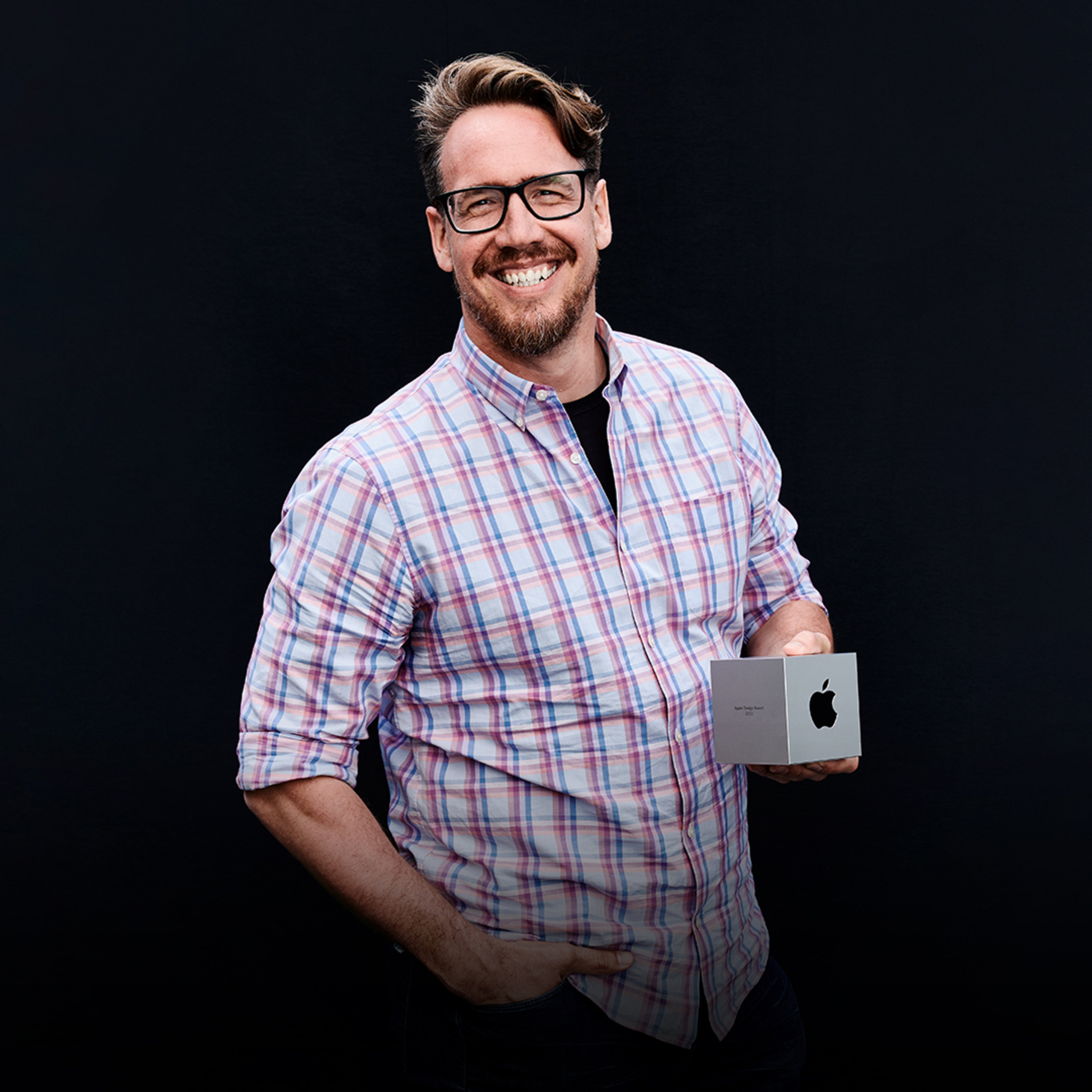 To break their creative block, Brode and Chu started playing every board game they could get their hands on. "That's the soup that SNAP arose from," Brode explains. It also led them to the early breakthrough — what Brode calls Chu's genius idea — that would define the game. "He said, 'You know what would be really fun? Incorporating the doubling cube from backgammon,'" says Brode. "We tried it and immediately realized we were onto something."
n
From there, things moved fast. The pair had inked a deal with Marvel, so they sat down to think about what made Marvel special. "It's the conflict between heroes and villains, right?" he continues. "It's not about mowing down enemies, it's about that heroic 1v1 standoff. So we said, 'That's it. Let's try a card game.'" The pair played the earliest rounds of SNAP on the back of business cards and the game's foundations were established in all of two days.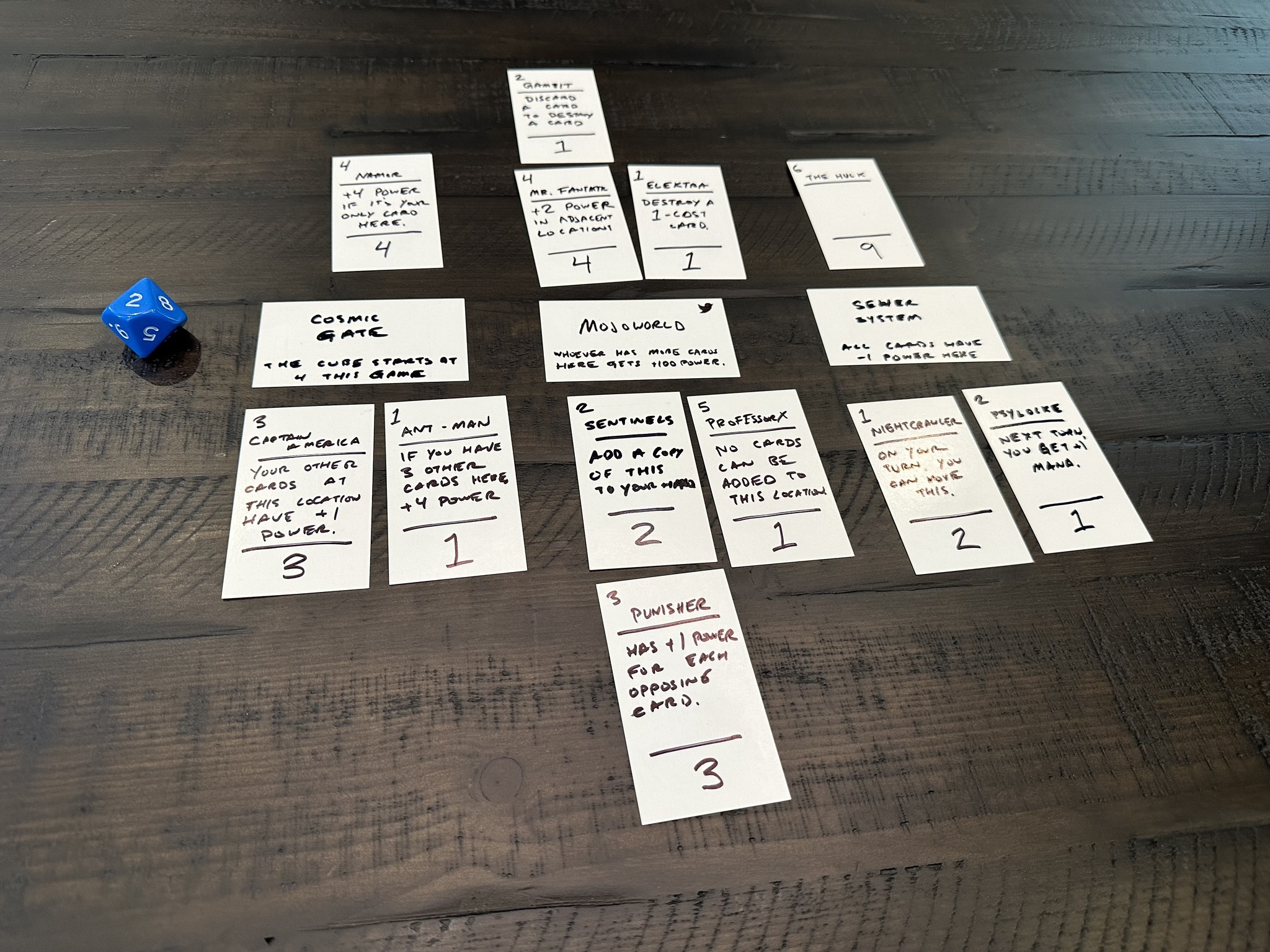 While the core game was built fast, the iterations took much longer. Over the next four years, Second Dinner played, refined, and simplified — to a degree. "It was honestly less about making the game simple and more about maximizing the depth of the complexity we chose to add," Brode says.
n
On one hand, SNAP is an incredibly simple game with one card type, three locations, and six turns. Rules for those card types and locations are easy to follow. Battles last a matter of minutes.
n
But those basic components combine for a game of near-infinite complexity — and perfectly calibrated balance. "Most people misunderstand randomness by thinking of it as a scale," Brode says. "That absolutely is not how randomness works. While no two games of SNAP are alike, in every game you have to think: 'How can I win this time?' It's about the intersection between randomness and skill. And if you lose, you always have an opportunity to reflect on how you could have done something differently."
While no two games of SNAP are alike, in every game you have to think: 'How can I win this time?' It's about the intersection between randomness and skill.

Ben Brode, MARVEL SNAP creator
Even the game's language keeps players engaged. For instance, retreating in SNAP isn't necessarily an admission of defeat; it might be a considered decision to minimize loss. "If you decide to leave because it's strategically correct, that's not losing!" says Brode. As such, players who retreat get a screen that says "Escaped!" — a much more palatable outcome than losing. "'Escaped' zeroes out the emotional negativity," Brode notes.
n
As befitting its comic-book origins, SNAP is a visual feast. Characters have their own unique animations, like Ghost Rider using his chain to yank a discarded card back into the match or Devil Dinosaur unleashing a board-rattling roar. Players can even enable a 60 fps setting to make a Hulk smash look truly incredible. Even "snapping" an opponent triggers a dramatic light show and haptic feedback.
While SNAP certainly includes top-line Avengers, they're by no means the game's heaviest hitters. Big wins can come courtesy of characters like Blue Marvel, Mister Fantastic, Misty Knight, and Enchantress — names you've maybe not heard in a while, if you've heard them at all. Brode says showcasing lesser-known characters was part of the strategy to appeal to a wider audience, but also a nod to his own comic-book past. (Naturally, those who worked on the game also have their favorites — art director Jomaro Kindred is a big Black Panther fan, while producer Gareth Ackerman is really into Armor.)
n
It's a comic-book game for non-comic-book people, a collectible card battler for those who've never heard the phrase, and an incredible achievement that appeals to players of all ages. "I got a suggestion this week from a 5-year-old in Wales who had an idea for a new location," says Brode. "His parents forwarded it to me with a note that said, 'We play this together as a family, and he's learning numbers and math through this game and these characters.' That's incredibly rewarding, and it feels awesome."
Download MARVEL SNAP from the App Store
Behind the Design is a series that explores design practices and philosophies from each of the winners of the Apple Design Awards. In each story, we go behind the screens with the developers and designers of these award-winning apps and games to discover how they brought their remarkable creations to life.