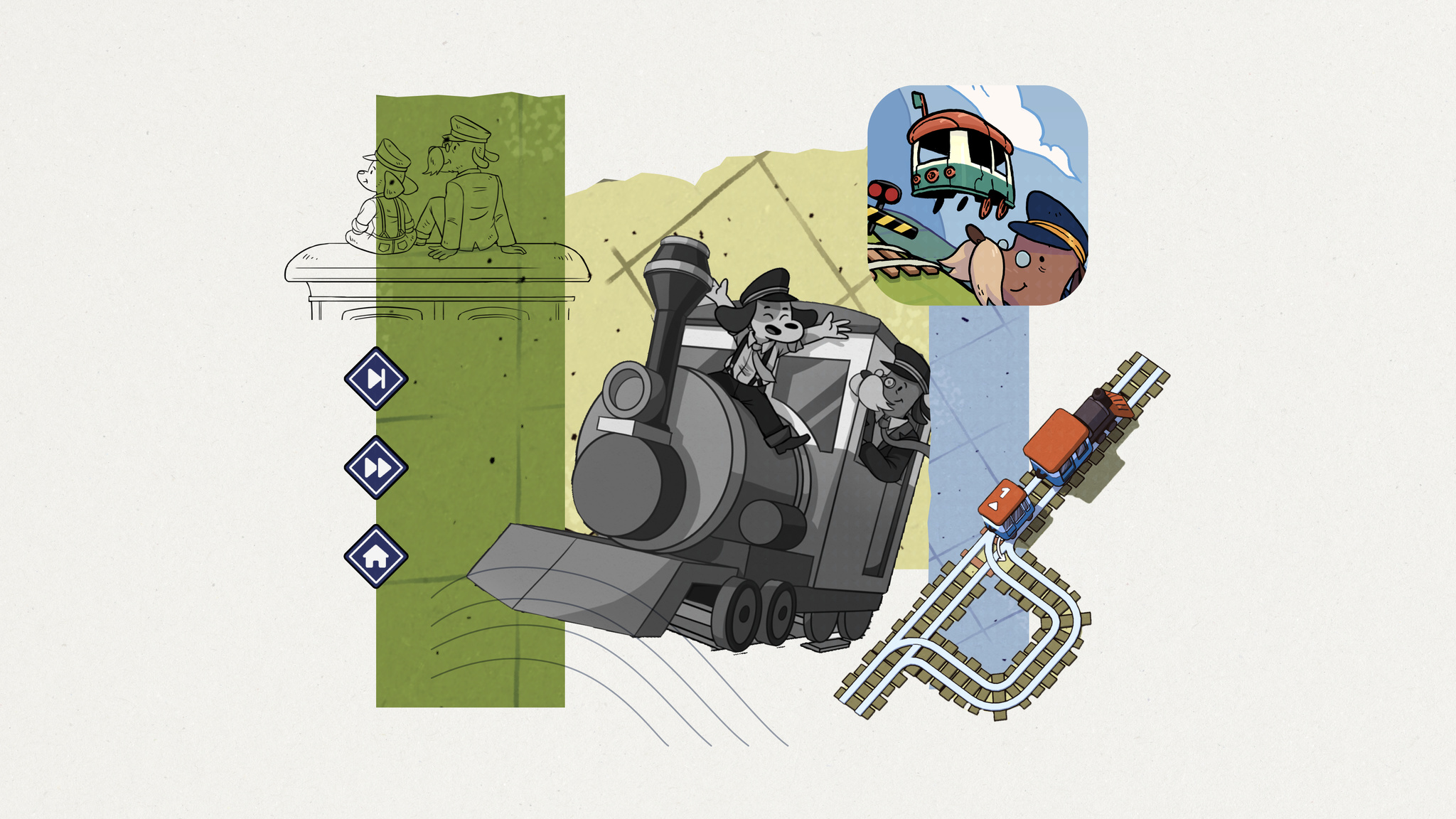 For a creative guy, Luke Spierewka, founder of the Poland-based game studio Afterburn, is certainly a fan of limitations.
n
"We make comfy puzzle games that convey an idea quickly," he says, "but they're all about using a limited amount of something, which is where the challenge comes in."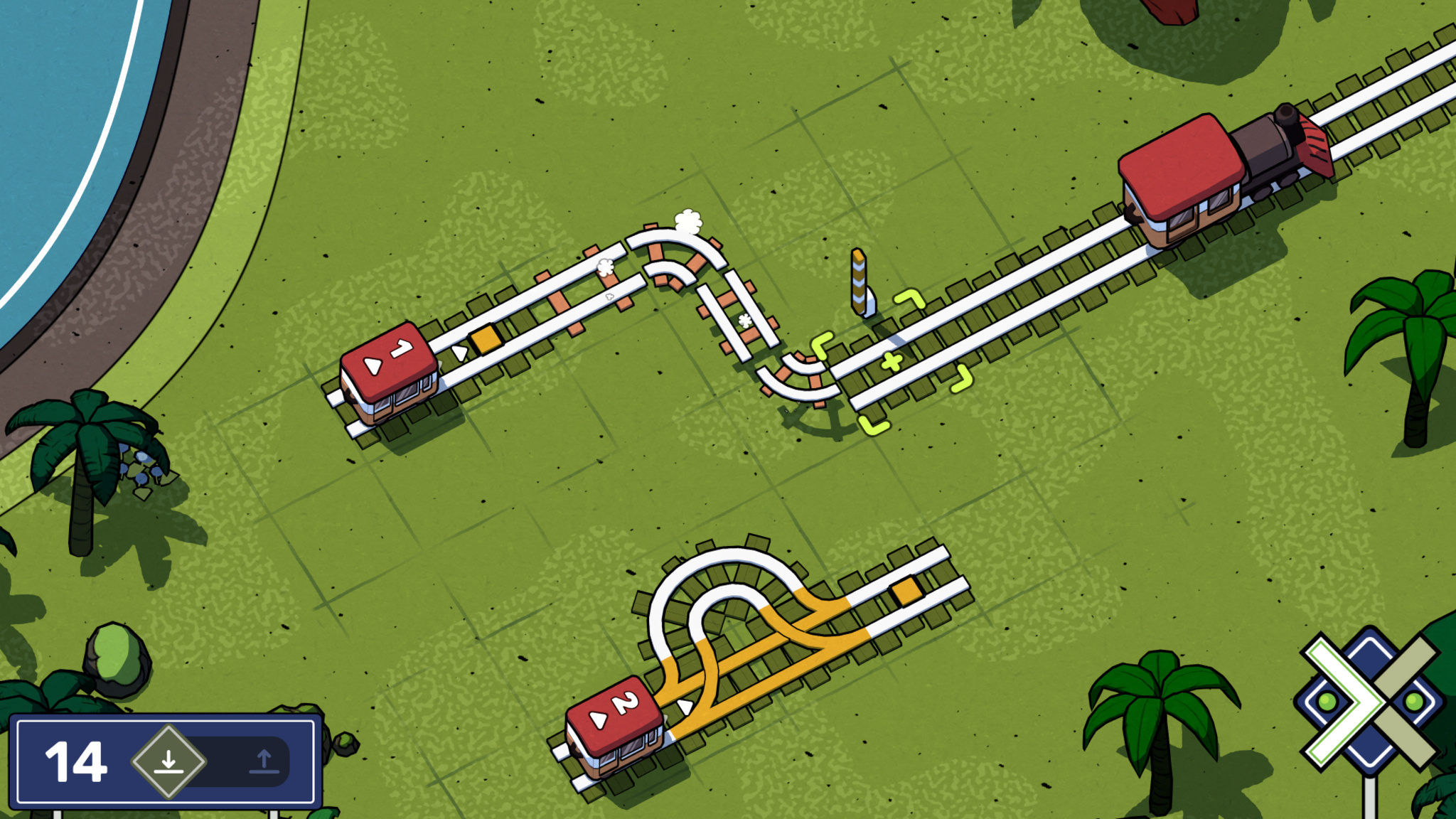 In Afterburn's Railbound, players are challenged to link train cars in proper order by laying down track, manipulating switches, and navigating an increasingly convoluted series of gates, tunnels, and stations. While the puzzles may be tricky, interacting with them is sheer joy. The track-laying mechanic is as simple as finger painting, mistakes can be easily undone, and the game is full of thoughtful details, like its duo of canine conductors or the squiggly frustration cloud that appears over a misdirected train car. And it's all presented in a bright cartoon style inspired by European comics.
Railbound's interaction design is the product of Spierewka's drive to make his studio's games ever easier to play. "I pay a lot of attention to input. For Railbound, I wanted a system where you basically paint rail tiles with one finger," he says. "I knew if we didn't make that mechanic fun and malleable, people would be much less inclined to play. And I think we got there," he says, before pausing and adding, "but I'm still thinking about how to make it more intuitive."
n
The studio, which Spierewka runs with his wife, Kamila, also paid close attention to the size of the puzzles. "In games like Stephen's Sausage Roll or A Monster's Expedition, the size of the level is exactly what you need to solve it. I'm not gonna pretend we're as elegant as those, but I try to constrain our puzzles and space as much as I can, and leave only the stuff you need."
That strategy also applies to the game's onboarding, a process that's largely wordless because of the unsubtle lessons the Afterburn team learned on previous games. "The first version of [our earlier game] Golf Peaks had all this onboarding text," he says. "The first level introduced five different concepts. The second level was like, 'This is a new tile type, deal with it.' The third level was like, 'Here's another new type, deal with that too,'" he laughs. "And nobody read them! Every single person I handed a phone to tapped right past the blocks of onboarding text. It was kind of a shock, really."
Nobody read them! Every single person I handed a phone to tapped right past the blocks of onboarding text. It was kind of a shock, really.

Luke Spierewka, Afterburn
For Railbound, Spierewka jettisoned words entirely. "We thought, 'What is the simplest way we can break down and teach mechanics?'" The answer was to integrate them into early gameplay. Railbound's first level gives players just one way to place a track; it's actually impossible not to beat. In levels 1 through 3, you learn to bend and rotate tiles. "You're not even taught how to delete tiles until several levels in, because you don't need to yet. It's all a dance of introducing and reinforcing concepts at the right pace." In other words, even the onboarding is an example of using only the stuff you need.
Download Railbound from the App Store
Behind the Design is a series that explores design practices and philosophies from each of the winners of the Apple Design Awards. In each story, we go behind the screens with the developers and designers of these award-winning apps and games to discover how they brought their remarkable creations to life.